Dior, the war and why historians need a fashion attitude makeover
15 November 2017
History and fashion rarely mix. This isn't a dig on historians' fashion sense, but rather a comment on how fashion, as a source material, is neglected by academic history. Perhaps fashion is believed to be an industry obsessed with the future – so what can it tell us about the past? – or maybe it's simply seen as too shallow to be of any real historical significance.
I am here, however, to reveal the untapped historical potential stitched away in fashion, by looking at the most famous designer of the 20th century and possibly ever: Christian Dior.
The second series of The Crown, the award-winning Netflix drama about Queen Elizabeth II's early years, is due on our screens next month. As with most period dramas, fashion plays a starring role and this is particularly true for the character of the young Princess Margaret, played by Vanessa Kirby.
Kirby is regularly captured sauntering around in stunning extravagant dresses, clearly inspired by 1950s Dior designs. While the show uses plenty of artistic license, here the producers have used historical fact to their advantage.
The young princess was a genuinely huge fan of Dior – then a desirable new Parisian designer – wearing one of his designs for her 21st birthday, which was immortalised in a portrait by photographer Cecil Beaton. Perched on a sofa, her small frame is practically hidden among the swathes of luxurious fabric making up the skirt of her almost Disney-Princess-like ball gown.
While this may not look controversial today, in post-war Europe Christian Dior's designs were revolutionary. This year marks the 60th anniversary of Dior's debut collection, which stunned audiences in the French capital.
Vanessa Kirby in The Crown (Source: facebook.com/TheCrownNetflix)
From the 90 pieces in the collection, the real headline act was the Bar Suit: a large corolla skirt that kicked out over the hips, teamed with a white blazer that synched in at the waist. The 1947 collection was famously coined the 'New Look' and spread like wildfire across the continent and over the Atlantic to New York – Dior was crowned as having revived a struggling post-war fashion industry.
The 'New Look' was all about creating an hourglass silhouette by accentuating the hips and squeezing the waist. It was womanly, voluptuous and set the standard for not only fashion, but femininity for the next decade.
To understand why this was so shocking to audiences at the time, it's worth noting that years of wartime rationing and austerity had manifested itself in clothing. Early 1940s fashion tended to be simple suits and knee-length dresses with boxy, almost militaristic, shoulders.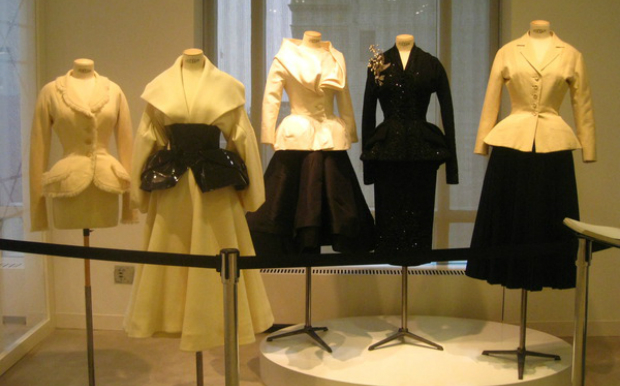 Dior designs, including the Bar Suit [far right] (Source: Flickr/pennyspitter)
In the UK, silk had been banned in civilian clothing in 1941 and, the following year, so too were pleats, ruching and embroidery. Even pockets were monitored and hats, being deemed a luxury item, were heavily taxed. The Board of Trade even created the Incorporated Society of London Fashion Designers (or InSoc) to help popularise the austerity-friendly designs. For a large part of European society, this make-do-and-mend attitude was not only reserved for wartime but continued, and in some cases worsened, in the years following the conflict. It must have been shocking to see Dior's models enveloped in layers of lavish material, with fine details and soft sloping shoulders. It's said that his average dress contained more than 18 metres of fabric.
This unapologetically feminine and glamorous style was a complete rejection of the Second World War reality that western society had been living.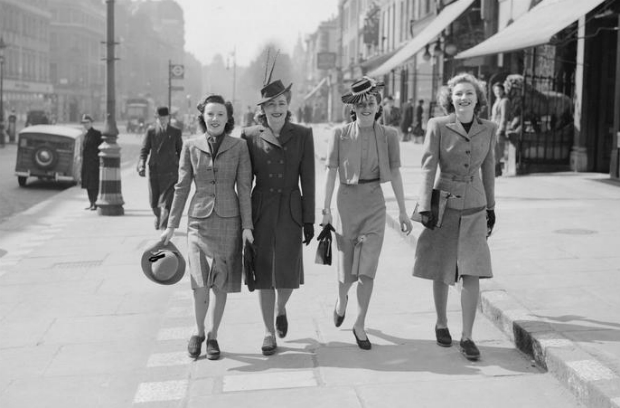 World War Two fashions (Source: iwm.org.uk)
"The bulkiness of the coats and capes to go over these tremendous skirts is startling," said one reporter. "Wide sunray pleats each backed in taffeta and slashed open to the knee are so manipulated that the swing of the skirt is a gracious thing."*
Reporting on the collection in 1948, one journalist was particularly taken by the pockets:
"One felt that these were an integral part of the costume for it added great style to see the manikins thrust their hands into them, pushing them slightly forward in a gesture that contributed immeasurably to the movement of the full skirts."**
Strangely, despite the wide-brimmed hats, synched waists and exaggerated bosoms, it seems it was the long skirts that caused the most drama.
Fuelled by austerity, wartime fashion had seen skirts generally stop around the knee. Dior's style sat around mid-shin and those few seemingly inconsequential inches were deemed by some as a snub to the war effort itself. It seems almost ironic that, just decades before the moral panic surrounding the 1960s mini skirt, there was scandal about such a conservative style.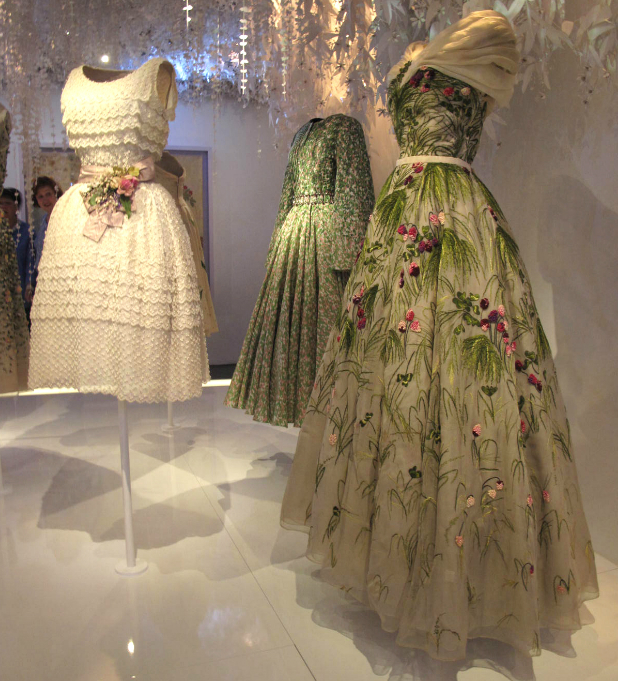 Extravagant Dior designs (Source: Flickr/Annie Harada Viot)
Perhaps even more ironic is the fact that the 'New Look' was anything but new and was instead a return to the more traditional styles of early 20th century. Dior apparently even admitted that his initial collections were inspired by the full skirts and petticoats his mother wore.
Of course, the brand was haute couture and in a world recovering from war, most could not even afford the notion of owning Dior. However, the wealthier classes lapped it up and, as fashion often does, Dior's style trickled down, cementing itself in popular society for much of the 1950s and '60s.
This influence can be seen in the trailer for Phantom Thread, starring Daniel Day-Lewis and due for release early 2018. The film follows a haute couture tailor in 1950s London and, as expected, the trailer is packed with Dior influences: opulent detail, lavish fabric and tiny waists on beautiful ball gowns.
It highlights how influential fashion is in instantly telling a story or setting a scene. Much like in The Crown, certain designs can immediately represent an era or community in a powerful but subtle way – in this case 1950s upper-class western society.
Ten years after his debut, Christian Dior died of a heart attack. In that decade he not only succeeded as a designer, but created one of the most historically significant fashions of all time. His 'New Look' has come to epitomise social morals, class divides, but mostly the move away from wartime austerity to the glamour of the 1950s.
*The New York Times, "Schiaparelli, Dior And Lelong Show", 8 August 2017, p. 15 (https://search.proquest.com/hnpguardianobserver) [accessed 7 November 2017].
**The New York Times, "Dior, At Opening, 'Copres Himself'", 9 November 1948, p. 32 (https://search.proquest.com/hnpguardianobserver) [accessed 7 November 2017].
(Feature image source: Unsplash/Kris Atomic)
< Back to all posts